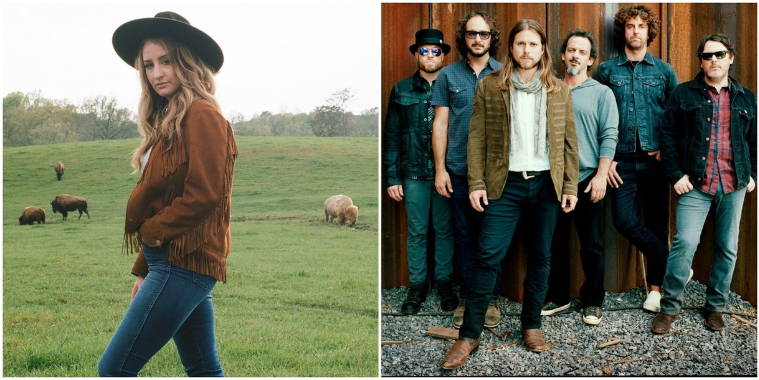 Margo Price (left) Lukas Nelson & Promise of the Real (right) to perform Sunday, August 12 at 7:00PM/ET
With her infectious blend of Nashville country, Memphis soul, and Texas twang, Margo Price is "one of the most compelling country talents to come out of Nashville in recent memory" (Vulture). She brings unflinching honesty and vivid songcraft to nuanced portraits of men and women just trying to get by,
Evoking everyone from Waylon and Willie to Loretta and Dolly along the way. Price splits the night with singer-songwriter Lukas Nelson (Willie's son) and his band, Promise of the Real. On tour with Neil Young in recent years, they've built a devoted following for their distinctive brand of cosmic country soul.
---

Stay Up To Date With All The Exciting Things Happening With DittyTV


Blackberry Smoke performs "One Horse Town"


---
Beale Street Music Festival 2018
---
Cowboys In The Campfire Make DittyTV Debut
ABOUT our TELEVISION NETWORK
ABOUT our TELEVISION NETWORK 
DittyTV is a television network that celebrates Americana and Roots styles of music. Think of us like vintage MTV, available anywhere, anytime. You can watch it on all connected devices or on our partner cable TV networks in a growing number of cities. Our television network features live concerts, music videos, interviews, documentaries, and more. We produce and broadcast our own live shows and feature video from a variety of passionate music inspired film and video producers. Similar to cable and satellite on-screen guides, our broadcast schedule tells you which shows will be playing at specific times of the day and which artists are featured. Just tune in and enjoy world-class Americana-inspired music entertainment from your favorite artists and artists you will love to discover.
And a big thank you to our partners along with Soundhouse Promotions.

---